I think it's about time I joined in on some Friday fun.  So what if it's really because I can't come up with original material? That's what prompts are for, right?  (Don't judge. We all know you've had one – or two – of these days before too.)
So here's the deal, yo.
Every week, Hilary from Feeling Beachie lists 4 statements with blanks to fill in on your own blogs. This week's co-host, Leslie at Time Out For Mom, came up with the last two statements.  Help us spread the word about this hop…. So, please tweet, FaceBook share, and add the linky to your post…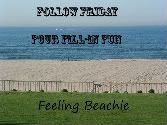 1.  I love to buy clothes but I hate to do laundry.  Maybe I ought to make a vow to not buy any new clothes when there's a pile of laundry at home?  Maybe.
2.  Free Air Conditioning makes a day better.  The library, the mall, Target, my parents' house…you get the idea.  And yes, there's none in mi casa.
3.  They Didn't Think I Could cook, But I Did.  Rather, I do.  (Almost) everyday, I feed my family with my gourmet inspired dishes. They don't always come out looking like the picture, but at least they're (usually) edible!
4.  Warning: I'm a hugger!  Blame it on my friendly, hospitable, trust-everyone, happy-go-lucky Filipino nature.  C'mon.  I bet every Filipino you've met has hugged you at least once – if not right after the first time you've met.  Am I right?  Of course I'm right.  (Why did you have to think about that last question?)
YOUR TURN!